As a trusted manufacturer in specialized bakery categories, the Oven Fresh Baking Company has been a leading provider in Foodservice in retail markets for 30 years. Our vast offerings of classic & gourmet burger buns, sandwich rolls, specialty breads & ryes are manufactured daily to please! Our core team members have been with us over 30 years; they are passionate about our products and dedicated to service.
We are proudly Canadian!
Sunflour Bakehouse is a very special proprietary brand. We bake a unique style of Eastern European sourdough, available in specialty grocers. You will find Sunflour Bakehouse products in 90% of Eastern European retailers across the Greater Toronto area.
Try our White, Wheat, 100% and Dark Rye! Sunflour products are also available in par-baked for retail and food service operators.
Oven Fresh Baking Company is a proud member of The Baking Association of Canada and Canadian Association of Foodservice Professionals.
Check out the In Store Menu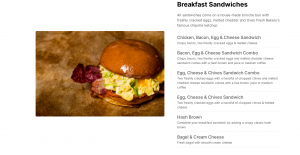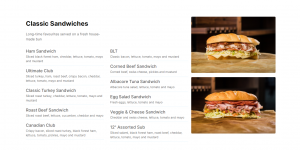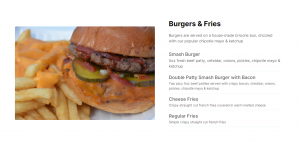 Oven Fresh Baking Company is a trusted partner to hundreds of food-service operators in Canada, providing fresh, par-baked and thaw & serve products for their every need. We can meet your high volume needs with the best quality and service.
Below is there Wholesale Menu: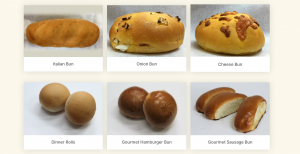 Page Marketing Project Involvement
In January 2014, Page Marketing Consultants was retained by Oven Fresh Bakery to undertake an SEO of its website http://www.ovenfreshbaking.ca/ and develop a marketing flyer program which include print ads and a coffee loyalty program using its business cards. The second phase includes a SMS Marketing plan.
Page Marketing Consultants (after reviewing the proposals with the company owners) decided to split the implementation plan of the proposal into two phases.
Phase I
Page Marketing began the process of designing "11 x 8.5″ and 8.5 x 14" marketing flyers highlighting the top breakfast and lunch menus. Staff started taking pictures of food menu's and began writing descriptions and creating graphic designs using windows photoshop program. Next the red and white business card used by Oven Fresh had the back side redesigned to include a coffee loyalty program. If a customer buys 6 coffee's then the 7th one is free. Oven Fresh mailed over 1000 flyers to selected households in South Etobicoke
Phase IA
The second part of Phase I includes an SMS Marketing Plan to get customers of Oven Fresh who either get a flyer to their home by Canada Post or come to the store to sign up for text messages. Messages are sent once or twice every two weeks to the smartphones of customers.
Phase II
The third phase of the project involved the renovation and expansion of the Oven Fresh Bakery to accommodate more customers, and the SEO of its website, by modofying its design, writing more articles, producing videos and undertaking e-mail marketing and commissioning a newsletter. Lastly , Oven Fresh would hire an outside graphic design firm to create a logo for its two white delivery vans.
Conclusion
The flyer ad campaign had mixed results although the owners of Oven Fresh went out to visit a number of large corporate customers like Purolator, Ontario Hydro etc. That initiative helped sales. The SMS Marketing program did not generate the numbers that was seen in the McDonalds of Canada program despite not missing all planned SMS text message blasts. The flyer ad program barely generated a 3% return. The one good result of the program is the adoption of the coffee purchase loyalty program on the Oven Fresh Business Card.